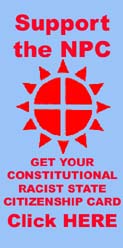 Tell Him He's Wrong, All Wrong (we will) Here:
On Twitter, @RichardBSpencer
______________________________________________________

London Patriot Charged Under UK Race Act in Women's Idiots' England

http://cafe.nfshost.com/?p=2046

Complain to the Queen That There's Bo Free Speech in Britain
https://www.royal.uk/contact
___________________________________________

Evil Warmonger/War Criminal George Bush Needs Condemnation for His Anti-
Trump Claptrap
http://www.breitbart.com/big-government/2017/10/19/9-terrible-legacies-of-george-w-bush-and-the-iraq-war/

Tell Him He Should Be in Jail or Hung for His Iraq Invasion
@TheBushCenter on Twitter

Antiwhite Idiot Tarantino Knew About Jew Pervert Pal Weinstein

http://www.bbc.com/news/world-us-canada-41689153

Tell Him and his Bloody Antiwhite Movies To Go To Hell Here:
on Twitter: @qtarantino
Women-run UK Holds Pro-white Singer
Alison Chabloz in Detention for 48 Hours
http://cafe.nfshost.com/?p=2037

Complain to Queen Elizabeth:
https://www.royal.uk/contact

And PM Theresa May:
https://email.number10.gov.uk/

Forwarded to UK PM Theresa May and HRH Queen Elizabeth:
The Nationalist Party of Canada condemns the detention of singer Alison Chabloz by your government.
Is this the kind of "democracy" Great Britain now exhibits?
For shame. There should be no "hate speech" decided by the state.

NATIONALIST PARTY OF CANADA
Toronto
October 13, 2017
_________________________________________

SOB Globalist Good Stephen Harper Cries Over White Society-undermining
Free Trade
http://www.cbc.ca/news/politics/harper-speaks-nafta-trade-1.4350756

Tell Him to Shut Up-- We're Tired of his Racemixer Immigration and Rotten
Job-Stealing Free Trade (We will) Here:
On Twitter: @stephenharper
________________________________________

Tell CBC Idiot Robyn Urback That Hollywood's Problem is
anti-white Jew Scumbags like Harvey Weinstein Spreading Their Evil
http://www.cbc.ca/news/opinion/harvey-weinstein-1.4350206

Twitter her... @RobynUrback


Great Idea: White Nationalist Flash Mob -- Use It In More
Restricted Spaces Like Our Enemies' Offices, Homes

http://talkingpointsmemo.com/muckraker/white-nationalists-resort-to-flash-mobs-rallies__
_______________________________________

Chief Thomas:

Dennis Mothersbaugh is a white nationalist activist arrested defending himself from violent communists and feminists and now
in your custody. We protest his arrest and his incarceration.

He has support of all racists who are watching the trials in your city and expect that while in custody he will be treated with respect
and with care for his safety and his rights. We are counting on you and the City of Charlottesville to extend them.

BOB SMITH
Secretary
Nationalist Party of Canada
October 11, 2017
racists in North America.
Complain To The Employers On Behalf of The Hamilton Man Who Lost His Job
Over Confederate Flag (We Will)

Story:
http://cafe.nfshost.com/?p=2029

Yoke Group Contact:
http://leasing.yokegroup.ca/contact-us/

Dear Yoke Group:
The Nationalist Party of Canada condemns you for firing an employee who displayed a Confederate
flag in Hamilton. The White Man's way is for free speech, not censorship.

Reinstate Keith Lipiec immediately.

The Nationalist Party of Canada, Toronto
_________________________________________

A Sick Feminist's Mind, Shows Depravity of Our Enemies,
Comparing Guns to Dildos
https://www.alternet.org/news-amp-politics/texas-you-can-legally-own-more-guns-sex-toys

Tell This Whore Off (We Will) On Twitter at
@lizacisms

Globalist Jews, Slimebag Commie Feminists Don't Want Public to Find Out
Pig Paddock Killed Whites for His Antifa/ISIS Hate

https://www.alternet.org/news-amp-politics/quest-find-vegas-killers-motive

Tell Author Marty Kaplan to Tell The Truth (We Will) Here:
https://www.alternet.org/feedback

Jew Elitists Wonder About White Racist Slogans; Learn Them Now
and Agree or Face an Uncertain Future

https://www.splcenter.org/hatewatch/2017/10/


Racists Whites Say: Leave North and South Korea Alone-- Let Them Unify and
Deal with Japan, Bring Back All Our Jobs
https://dailystormer.ph/nobody-cares-about-north-korea-except-jews/


Jewsmedia Gives Every Stupid Detail But the Hate Motives of
To: Beth Lawecki, Toronto Public Library

October 11, 2017
With respect to your banning of Victor Fletcher of meeting space,
You are a commie-feminist idiot who can't handle truth. We aresv ure that Paul Fromm will take this matter further. The White Man's Way is free speech. Try to remember that as we will
BOB SMITH
Secretary
Nationalist Party of Canada

Globalist Racemixer Morons at Unilever Remove Dove Soap Ad
Offensive to Blacks
http://money.cnn.com/2017/10/08/news/companies/dove-apology-racist-ad/index.html

Ask Them When They Will Do It for Whites?
Contact Form:
https://www.unilever.ca/contact/contact-form/



Fat-Faced Moron Put Down in Las Vegas



Forwarded to Las Vegas Weekly staff member Cindy Reed
for her comments on Saturday October 7:
You're a typical commie/feminist out to disarm the white population, even by using a white race traitor
to kill our people to put your tyrannical laws in.
Curses on you and all your works until you see the light you fat-faced moron!
DON ANDREWS
Leader
Nationalist Party of Canada
Toronto



JAGMEET SINGH ELECTED NDP NATIONAL LEADER

Forwarded to Jagmeet Singh, October 1st:


Dear Mr. Singh:


Congratulations on your election as NDP Leader, even by a hair line-53% on the first ballot.
We supported your candidacy, and the party proved that they are not multicultural bigots . Now the lines have been drawn.
Again, congratulations.
DON ANDREWS
Leader
Nationalist Party of Canada
___________________________________________________

No Hoax! Las Vegas Shooter Was a Racemixer Antifa Supporter That Cops and the Media Are Trying to Protect
and Hide His Rich Background...and More Headlines for Racists, October 3
https://www.splcenter.org/hatewatch/2017/10/03/hatewatch-headlines-1032017
Jewsmedia Cover-up Going On in Racemixer's Massacre in Las Vegas

https://davidduke.com/dr-duke-collett-expose-the-coverup-of-the-lv-white-massacre-and-chris-cantwell-tells-his-side-of-charlottesville/

Trump's Moron Globalist General Mattis Full of Crap on War Progress of US Invaders
in Afghanistan
http://www.breitbart.com/national-security/2017/10/03/defense-secretary-james-mattis-six-afghan-military-corps-offense/

Tell Him-- We Will Here
https://www.defense.gov/Resources/Contact-DoD/

Las Vegas Shooter Bets On A Sure Thing

https://www.thestar.com/opinion/commentary/2017/10/03/las-vegas-gunman-finally-bet-on-a-sure-thing-mallick.html

Jewess Heather Mallick Hides Killer's Racemixing, Antifa Literature

Tell Her to Stop the Fake News Crap (We Will)
at hmallick@thestar.ca



____________________________________________________________________________

Good News: Anti-Free Speech Warren Kinsella Commies Lose in Court to
Your Ward News Publishers


http://cafe.nfshost.com/?p=1975

Tell Rick Salutin: Anti-White Racist Semitic Religion Dies Not Represent White Nationalists
(We Will) Here: lettertoed@thestar.com

America First...Later? Trump Wasting His Time and Popularity
With Whites Whining for DACA Nonwhites

https://altright.com/2017/09/07/trump-shucks-and-jives-on-daca/
To Seth Macfarlane
c/o Fox Television
Your sick portrayal of suicide in the Family Guy "Fairy Tales" episode is disgusting
with Meg shown at the end hanging herself.
Teen suicide is a major crisis in society and should not be portrayed in this awful manner.
Your immorality and perversion is dangerous.
God curse all your sick endeavors.
Nationalist Party of Canada
Toronto



White Nationalist Chris Cantwell Surrenders to Police
Daniel Dubeau,
Office of the Commissioner,
Royal Canadian Mounted Police
Ottawa
Dear Sir:
The Nationalist Party of Canada calls upon you to cease and desist your force's harassment of Canadian white nationalist Brad Love.
He has been under unnecessary surveillance without good reason.
Mr. Love is a fine young man who does not deserve this kind of treatment. He pose no threat to Canada or Canadians and is
being made a target only because of his political views. This is not the kind of behavior taxpayers expect from our world-famous
national police.
Please stop this harassment against Brad Love.
Sincerely.
BOB SMITH
Secretary
Nationalist Party of Canada
You Can't Trust Globalist Scheer: Let the Racemixer Anti-White Nationalist Christians
Fend for Themselves... But Trudeau is Still An Enemy of the White Race
http://cafe.nfshost.com/?p=1951



They'll Be Sorry: Ugly Dumb White Grunt Idiots Would Praise Trump's Unlimited
War in Afghanistan-- Not Sane Racists


http://thehill.com/blogs/congress-blog/foreign-policy/347393-16-years-on-its-past-time-to-bring-our-troops-home-from

NBC Idiot Tom Brokaw Slammed


Forwarded to NBC's Tom Brokaw re his mean remarks about racists in Virginia:

August 16, 2017
Get the marbles out of your mouth, you white self-loather, and get off the TV screen --
You make us sick speaking against white Nationalists in Charolettesville

NATIONALIST PARTY OF CANADA
Toronto

Email Brokaw at contact.nbcnews@nbcuni.com

Tell Shree Pradkar and Ezra Levant: Jews Stuck With White Racists For Protection -- Hug Them Hard

https://www.thestar.com/news/gta/2017/08/16/the-rebel-exodus-suggests-just-one-ism-separates-far-right-from-alt-right-hate-paradkar.html

Email Paradkar at lettertoed@thestar.ca
Mail Ezra Levant here:https://www.therebel.media/contactus

The white race doesn't need fools like you
DON ANDREWS
Leader
Nationalist Party of Canada
__________________________________________________________



Fox News Moron Slammed



Forwarded to Rob O'Neill, host of Fox News Specialists for his dumb
remarks:

August 14, 2017

You're a disgusting example of a white man, you self-loathing mean idiot. How do you sleep at night?
Advocating violence is always wrong, then laughing about it, shows your immorality.

Nationalist Party of Canada
Toronto Canada
Tell Republican Cuckservative Ron Nehring He's Sick and Ugly and Knows Nothing About White Nationalism
and Needs to Shut Up:
On Twitter: @RonNehring

watching/

Email Him Here (We Will): http://www.cnn.com/fyi/legal/feedback/index.html

Paul Fromm Reports on Your Ward News Hearings
http://cafe.nfshost.com/?p=1928
_________________________________
NPC Slams Anti-White Virginia Governor

Forwarded to Virginia Governor Terry McAuliffe in Response to His
August 12 Press Conference:
August 12, 2017

Re your press conference on Saturday evening:
It was a moronic speech if ever I heard one. No wonder whites have gone down the drain.

Don't say anything against white nationalists, you hypocritical idiot.
DON ANDREWS
Leader
National Party of Canada


Tell Sun Media Jerk Mark Bonokoski to Go To Hell for His Stupid
Anti-Zundel Comments
http://www.torontosun.com/2017/08/07/ernst-zundel-deserved-agony-not-a-quiet-exit
Email Him at markbonokoski@gmail.com

Ernst Zundel: A Great Spirit Has Passed
http://nationalvanguard.org/2017/08/ernst-zundel-a-great-spirit-has-passed/

Another Tribute to Good-Guy Ernst Zundel
http://cafe.nfshost.com/?p=1921

_______________________________________________
White Globalist Mercenary Warmonger Condemned


Forwarded to Frontier Group's Eric Prince following comments on Fox News:
August 10, 2017
to: Erik Prince
Frontier Services Group
Hey, Jughead! Just get out of Afghanistan now! Your thoughtless lies and dangerous white mercenary meddling
disgusts and endangers with racemixing all isolationists and white racists while costing lives and billions that could be better spent on health care.
How do you sleep at night?
DON ANDREWS, Leader
The Nationalist Party of Canada
Toronto Canada
Eulogy for Ernst Zundel, His Life and Influence
http://cafe.nfshost.com/?p=1908

__________________________________________________

KFC Slammed for Promoting Racemixing
August 9, 2017

KFC and its parent company Yum Brands will receive the following letter:

August 9, 2017
To: Greg Creed, CEO
Yum Brands/KFC
Toronto
The Nationalist Party of Canada protests your disgusting racemixing-promoting currently-running ad for KFC which features a carful of people and a black man and white woman in the front and a white man in the back seat.
It is unacceptable that DNA-recessive white people are both belittled and encouraged to racemix. We demand this ad be withdrawn immediately from the air-- otherwise, white racists will be boycotting KFC in Canada and in the USA.
Don't push this on proud white people.
BOB SMITH
Secretary
Nationalist Party of Canada

Dear Sir:
We write to you regarding Miss Donna Upson, a supporter of our organization, who is current in custody in Nova Scotia. We are asking you
to see to it that during her incarceration that she is treated fairly and with the same care and respect as other inmates.
It is our wish that she not be subject to any pressure or negative treatment due to her political views or exposed to any danger to her personal safety.
While she is in your custody, your Ministry and your institution are responsible for her safety, and we will be monitoring her incarceration in this regard.
We thank you for your attention to this matter and your positive response.

BOB SMITH
Secretary
Nationalist Party of Canada

(Also sent to the Premier of Nova Scotia)
Congratulations on your rally on Thursday which we thought was well attended.
It was great fun to watch the newsmedia like CNN fall all over themselves covering it.
On behalf of the members and supporters of the Nationalist Party of Canada, I send best wishes to you and your family and continued success on your presidency.

DON ANDREWS, Leader
Nationalist Party of Canada

Ottawa's Secret Plans for The Aftermath of the Queen's Death
https://www.thestar.com/news/canada/2017/07/30/a-queens-death-and-a-secret-plan-in-ottawa.html
We Don't Need a Foreign Monarch's Rule... Tell PM Trudeau (We Will), Here
Justin Trudeau's Email: pm@pm.gc.ca

Woman Robbed Robbed, Pistol-whipped in her Driveway... Blame Racemixer Whites First!

https://www.dailystormer.com/woman-robbed-and-pistol-whipped-in-her-driveway/

Good Idea: New Campaign to Close All Globalist Racemixing US Military Meddler Bases on
Foreign Soil

Tell Trump Not To Sign This Bill (we Will): @realDonaldTrump
Modern Family Slammed for Endangering Service People

To: Christoper Lloyd, Steve Levitan
"Modern Family"
20th Century Fox Television

A recently-syndicated episode of Modern Family repeatedly showed a
simulated physical ad verbal attack by Luke Dunphy on what he believed to be a burglar
but was his mother. He shouted "Die, Pizza Man!" as he fired a paintball gun.

This not only denigrates pizza delivery people but endangers them as well
by okaying attacking service people. Many of these people no doubt
have faced this situation with armed people and many have been attacked,
injured and killed.

It is the hope of the Nationalist Party of Canada that this kind of "fun" attack on people will
not be repeated in future episodes. Working in restaurants and home delivery is a
profession that is risky enough without it being made "humorous".

Bob Smith
Secretary
Nationalist Party of Canada
Toronto, Canada

cc: Federal Communications Commission
Canadian Radiotelevision Telecommunications Commission


And Slammed Again for Immorality



August 1, 2017

Steve Levitan Productions/
29th Century Fox Television
Once again we are pointing out to you how Modern Family is heading down a South Park road. Phil Dunphy's character is
evolving from a goofy dad into a mean-spirited immoral man

His allowing in one episode his son Luke to get away with cheating on a wrestling match, and in the same episode arranging for
his business rival Gil to get head lice from Lily is nothing shoret of mean and immoral. In another episode, he pretends Luke is inured to lure
his daughters to help him break him into a old movie theatre.
In the new season, we hope that Phil will develop a sense or morals and right and wrong instead of sinking lower than others.
Otherwise we will be telling White Nationalists who enjoy the show in North America not to watch.
Bob Smith
Secretary
Nationalist Party of Canada
Toronto Canada.
(Ask the Indians to stop their violent behavior first --
and Tell Lorne Gunter (We Will).. at lgunter@postmedia.com )








Two Shot In Vaughan, Ontario: Toronto Plagued with
Italians' Mafia War



http://www.citynews.ca/2017/07/18/2-people-hospital-vaughan-sports-bar-shooting/



Tell Vaughan's Mayor to Clean It Up (We Will) Here:

https://www.vaughan.ca/cityhall/Pages/contact.aspx


World's Top 20 Billionaires: Many Are Jews

http://www.cbsnews.com/pictures/richest-people-in-world-forbes/



US Hostage Policy: Pay The Bloody Ransom!

http://www.cbsnews.com/news/60-minutes-hostage-policy-lesley-stahl-2/





Toronto Councillor Pasternak Slammed for Anti-Free Speech Actions


Toronto Councillor James Pasternak cried the blues about Canadians
who chose to hold a memorial service for lawyer Barbara Kulaszka.
The NPC responded to him and Mayor John Tory:

July 13, 2017
To Councillor Pasternak:
The Nationalist Party of Canada condemns you for your anti-free speech remarks against Canadians marking the death of a lawyer in a public library.
Free speech is free speech, not just what what Jews want. Unlike you, Canadian Nationalist Party have common sense,
good will and fair play, something you're obviously afraid of. Remember, you're a public figure representing more than just your lousy narrow-minded view.
Your days of running things are coming to and end with the rise of populism and white nationalists.
DON ANDREWS, Leader
THE NATIONALIST PARTY OF CANADA
Toronto

Complain to him at councillor_pasternak@toronto.ca
and to Mayor Tory at mayor_tory@toronto.ca

Anti-Trump Rally: All Rockers Are NFG-- Especially Pink Floyd



http://www.cnn.com/2017/07/15/us/roger-waters-smerconish-cnntv/index.html

Tell Roger Walters (we Will) Here:
On Twitter: @rogerwalters


Lew Rockwell Is Right...
Get Out of Syria!

https://www.lewrockwell.com/2017/07/no_author/hey-masters-universe/



Globalists' Jewsmedia Only Highlights Attacks in Israel: Gaza
Suffering and Jew Reprisals Ignored


http://www.timesofisrael.com/hamas-calls-for-attacks-on-israelis-after-temple-mount-closure/

War Hawk Trump Too Globalist with Jews All Around Him

http://ihr.org/audio/archives/may2017weber

Tell Him Isolationism Is Best.. We Will..on Twitter
@realDonaldTrump




US Warmonger Slammed


Forwarded to US House of Representatives' Ruben Gallego
After his appearance July 3 on CNN:

July 3, 2017

Stop your warmongering and trying to hype up a second phony
cold war-- you know Jews run both sides, especially on Fake
News CNN.

You're a disgusting creature against Russia.

The Nationalist Party of Canada
Toronto Canada


Richard Clarke-- Pinhead Pundit


Forwarded to Author Richard A. Clarke:

July 2, 2017

Re your appearance ion HBO's Real Time:

You're so full of crap .. you know Jews run both sides of the
phony Cold War, and your book "Cassandra" is well-named.

Nationalist Party of Canada
Toronto
_______________________


US National Socialist Rally July 8 in Cleveland, Tennessee.
Write to nsmregion4hq@gmail.com for details.

NSM's Summer Magazine Now Online, Here

http://www.nsm88.org/stormtrooper/NSM%20Magazine%20Spring%20Summer%202017%20%2041617.pdf


This film is yet another in a long line of movies that glorify criminal behavior, violence and immorality.

The commercials promoting the film too loud and damage peoples' hearing. Also. we note the appearance of Jamie Foxx as a black thug. Isn't there enough black crime in real life without Sony and Columbia Studios creating more immoral fantasy?

The NPC and its members and supporters will be boycotting this film.


Bob Smith
Secretary
Nationalist Party of Canada
Toronto, Canada

Tell Her To Shove Her Books Where The Sun Doesn't Shine (We Will) At
@jk_rowling